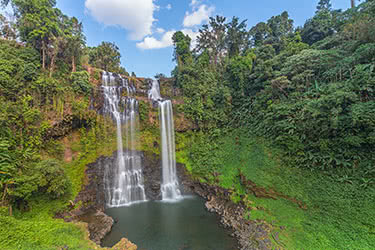 Situated in southern Laos, Pakse is actually the capital of Champasak Province. The name stands for the mouth of a river. What attracted me to the place was the convergence of Mekong and Sedone River. I decided to spend a few days here before I moved on to the other parts of the country. The riverside town has plenty to offer. Here are some things that you can see and do when you plan to visit Pakse.
Marvel at Wat Luang
No doubt, it is one of the prettiest and largest temples that I came across in this city. It is home to several monks. I could catch the monks performing the Laotian alms donating ceremony. What I liked more about this temple was that it is not frequented by crowds. So, I could spend a peaceful time here.
Check out the Historical Heritage Museum
To get an insight into the history and culture of Champasak, I headed to the Historical Heritage Museum. There are many artifacts to be found here such as the ornate stone carvings and Dong Son drums that made from bronze. I also found pieces from the kingdom of Khmer along with some musical instruments. There is a gallery for antique earring and textile. This is a must visit if you a jewelry enthusiast.
Drop in at Wat Phou Salao
This is a charming and quaint little temple which is situated on the hill which overlooks Mekong River. It is famous because of the large Buddha statue which is present inside it. I visited during sunset and I feel it is the best time to visit as you can enjoy the view of the countryside against the setting sun. However, you need to keep in mind that you will have to climb a steep and long staircase for getting inside the temple.